About The Client?
Elimitix is a traffic law firm based out of Michigan. The firm helps individuals defend any type of traffic ticket, ranging from speeding tickets to drunk driving. As experienced attorneys, they provide comprehensive defense services along with a "No Point Promise", which allows clients to get a full refund if they receive points at their court hearing.
The Challenge?
The law firm was aspiring to rank across the state for competitive keywords in its niche. With several competitors who had already been performing SEO well before Elimitix began its campaign with us, we knew that getting to the top 3 search results would require aggressive link building and a comprehensive SEO strategy.
The Solution
Dabaran hit the ground running by identifying a mix of high competition, short-tail keywords and mixed them with a set of medium competition search terms. This allowed us to go to market and show up for 50% of the keywords within a matter of weeks instead of months. As we continued our campaign, Elimitix also started to rank higher for more competitive keywords, eventually driving traffic up by 151%.
THE RESULTS
www.elimitix.com
Target Keyword: traffic ticket attorney Detroit
Ranking: 3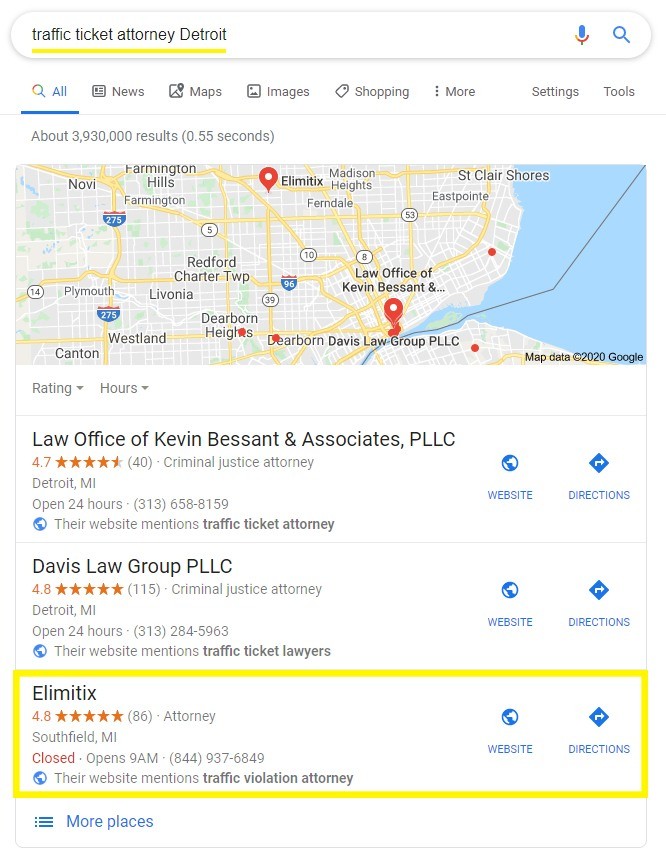 Target Keyword: traffic ticket lawyer Southfield
Ranking: 2
Target Keyword: traffic law office Michigan
Ranking: 1
Target Keyword: traffic violation attorney Michigan
Ranking: 2
MAKE A MOVE
Stop guessing and start making concrete moves toward better search engine rankings, more website traffic and a better online marketing strategy. We're here to help your business reach the top.
Contact us today!