We help to create visual strategies.
We want to hear from you. Let us
know how we can help.
Small teams often wear multiple hats, juggling various roles and responsibilities within their businesses. With so much to do, SEO can end up being just another item on a long list of to-dos. That would be tragic!
Why, you may ask?
SEO is key to unlocking your online potential. It's your ticket to increased visibility and higher website traffic.
An effective SEO strategy improves your website's ranking on search engine results pages (SERPs), making it easier for potential customers to find and engage with your business. Marketers who use SEO understand its importance: One survey found that 88% of marketers with an existing SEO plan intend to maintain or increase their SEO investment in 2023.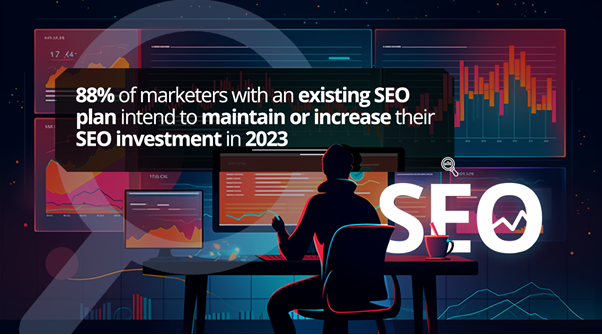 But let's be honest, keeping up with constant changes in SEO best practices can be as hard as trying to hit a moving target. That's why we're revealing three actionable SEO tips specifically tailored for small teams in 2023.
Whether you're just starting or looking to fine-tune your current strategy, these tips will provide you with a solid foundation to enhance your SEO game.
Tip 1: Master Keyword Research
Keyword research is the cornerstone of any effective SEO strategy. It is the process of identifying words and phrases that people search for online and optimizing content around those terms. It's not simply about getting more visitors to your site, but getting the right kind of visitors.
Here are a few pointers to master keyword research:
Focus on long-tail keywords: These are longer keyword phrases that visitors are likely to use when they're towards the end of the buying cycle.
Consider user intent: Search engine algorithms are becoming better at understanding a searcher's intent. Is the user looking for general information when typing in a search query, or are they trying to find a specific product to purchase? Understanding this intent and designing your content accordingly is vital.
Use keyword research tools: Several excellent tools are available to help you with keyword research. These range from Google's Keyword Planner to third-party tools like Dabaran.
Tip 2: Leverage Next-Generation Media for On-Page SEO
Gone are the days when plain text ruled the web. Now, it's all about attracting users with high-quality images, compelling graphics, and captivating videos. This next-generation media is not only critical for enhancing user engagement but also plays a pivotal role in your on-page SEO strategy.
How can you use next-generation media to boost your SEO? Let's break it down:
Improve Search Engine Results Page (SERP) Rankings: User experience is an important factor behind higher search engine rankings. Including high-quality images, graphics, and videos lets you make your pages more attractive to both users and search engines. On the user side, it improves customer experience, while on the search engine side, it improves SERP rankings.
Rank for Competitive Keywords in Short-Form Video SERPs: With the rising popularity of platforms like TikTok and Instagram Reels, short-form video content has exploded in popularity. If you can create engaging, keyword-optimized short-form videos, you can start to rank for these competitive keywords in video SERPs.
Build Organic Backlinks: Next-generation media can also be a powerful tool for building organic backlinks. If you create an engaging infographic, for example, other sites may link to it and provide you with a valuable backlink. The key here is to create media that is not only high quality but also unique and shareable.
Tip 3: Utilize SEO Tools and Software
The constantly evolving digital landscape can make it daunting for small teams to keep track of their SEO strategies. Fortunately, there's a wide array of SEO tools and software to help streamline your SEO efforts.
Here are some of the best ways to leverage SEO tools and software in 2023:
Keyword research
Site audits
Backlink analysis
Rank tracking
SEO analytics
While these tips provide a solid foundation for your SEO strategy, remember that SEO is an ongoing, ever-evolving process. Stay informed, stay flexible, and be ready to adapt your strategy as the digital landscape changes.
At Dabaran, we specialize in providing comprehensive SEO services tailored to your unique needs and goals. Our experts are always ready to help your small team make a big splash in the digital world.
Don't wait to start your journey to the top of the SERPs. Get in touch with us today!