We help to create visual strategies.
We want to hear from you. Let us
know how we can help.
Most business owners these days know the importance of having a website that is optimized for search engines.SEO has become synonymous with web presence, and web presence with success. But outside of having the right keywords and linking strategies in place, what are search engines looking for on your site? What can you include on your site to make it easier for these search engine bots to read, index and rank your business?
What do search engine bots look for?
For starters, search engine bots read all the code on your website. This includes text not visible to the naked eye. Among this "hidden text" is some very important information. Namely, alt text, title tags, and your site map. Below is a brief look at each of these and why they are so important.
Alt text: Search engine bots only crawl text and code. They cannot see images or video clips. So if you have a page that is mostly photos, it will appear blank to bots and will not be indexed. This is where alt text comes in. Alt text allows you to make images and other hidden media visible to search engines. This is especially important for e-commerce sites that have many images of their goods for sale. By assigning accurate alt text to each image, the bots can index them properly, allowing them to show up in searches and attract customers.
Title tags: Arguably some of the most important information you can give a bot, the title tag is a brief keyword heavy description of the page. While less than 65 characters, a title tag should contain at least one, if not two relevant keywords for your business. It can also contain your brand name or company name, where applicable. This tag is visible to both search engine bots and users, so it should be legible, but concise. If you had a website called Mary's Cakes that sold wedding cakes, you might have a title tag that looked like this:
Wedding Cakes-Celebration Cakes|Mary's Cakes
Notably, you don't want to "keyword stuff" a title tag, since it makes it illegible to users and will not be properly indexed by the bots. For example:
WeddingCakes|Cupcakes|CelebrationCakes
|BakedGoods|MarysCakes
This title tag is within the character limit, but it's obviously stuffed with keywords and is not useful for users. This can lead to repercussions from search engine bots.
Be sure that each page has an accurate and unique title tag. This allows for more indexing for your site in an organic way that search engines favor. A win-win!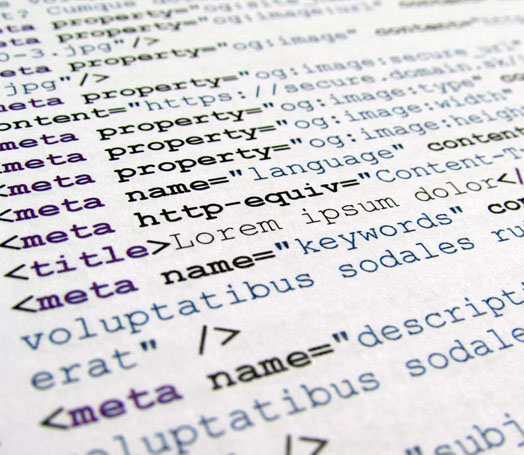 Site Map: A site map is a list of all the pages on your site, organized in a way that's ideal for search engine bots. Creating a site maps tells these bots what to crawl and index, what not to crawl and index, what takes priority and what takes a backseat. It also makes each page of your site unique, which is useful for indexing. This is because bots sometimes see multiple pages as containing duplicate content. This can make indexing a pain, since the bots won't index each separate page if they think they contain the same information. Finally, a site map will show crawlers how often you update the pages on your site. Search engines like up-to-date relevant information and often give it priority when ranking search results. A site map acts as a short cut to show bots how valuable your site is to the people searching for your content.
How do search engine bots read content?
In addition to this information, search engine bots also read all the other text on your website. This includes your location and operating hours, your about me, and your content. While having a lot of content across many pages is good, having relevant, useful and high-value content is better. Content that contains the right amount of keywords, geotags where applicable, and internal links can be considered high-value. Here's what you need to know about each of these elements:
Keywords: Keywords are any words or short phrases that users may search to find your site. As with title tags, these should be directly related to your business and they shouldn't overwhelm the actual content being offered. Between 2 and 6 keywords, repeated 2 to 5 times should be the aim for most content. You can find the best keywords for your site in a variety of ways, including working with an SEO agency, by using a keyword generator, or through trial and error.
Geotags: Geotags are similar to keywords but they contain a location. So if you sell wedding cakes in Tampa, Florida, you might want to include keyword phrases such as Wedding Cakes Tampa Tampa Bay Wedding Cakes and so on. Geotags should only be used to attract customers from an area you actually serve. If you have many offices all over the country, consider setting up different pages for each area. This will result in better indexing.
Internal Links: Internal links link content on one page of your site to another page on your site. They can be used to increase the amount of time a visitor stays on your page, which bots look at favorably. As with the above content features, less is more when internally linking. Try to limit hyperlinks in your content to one per paragraph.
When creating content, try to update regularly, and provide valuable information that your potential customers want to read. Make it easily shareable to social media and even try submitting content to other high value sites to create those incredibly coveted backlinks. The search engine bots are ready to read your site- so get writing!