We help to create visual strategies.
We want to hear from you. Let us
know how we can help.
A good ranking in local searches is as much a digital asset as any.
It's a proven boost to customer acquisition, conversions, and higher footfall to physical stores and websites.
A healthy 53% of all Google searches have local intent, while 76% of consumers doing a 'near me' search on a mobile device show up at a business within 24 hours. As you can see, a high ranking in local searches will help your business unlock a goldmine in terms of new leads and brand visibility.
The game is a little different, though, when you try to local-optimize business locations spread across multiple cities and jurisdictions. How do you achieve a good ranking for multiple search locations with just one website? This article is a handy guide for anyone trying to get actionable answers to that question.
Importance of Local SEO
A lot of businesses with functional websites optimized for organic search don't think it worthwhile to invest in local SEO. That can be a serious error of judgment.
Search engines use local content, links, addresses, and social profile pages to provide up-to-date results in local searches. If you have a brick-and-mortar store and wish to improve the reach of your digital marketing efforts, localizing your web page content and updating your business details can help boost your overall rank.
That's because search engines view your business as legitimate once they can verify all necessary details like addresses, phone numbers, customer reviews, and so on.  Additionally, localizing your website content will ensure your business remains relevant to its most important stakeholders – customers.
How To Optimize Your Website SEO For Multiple Locations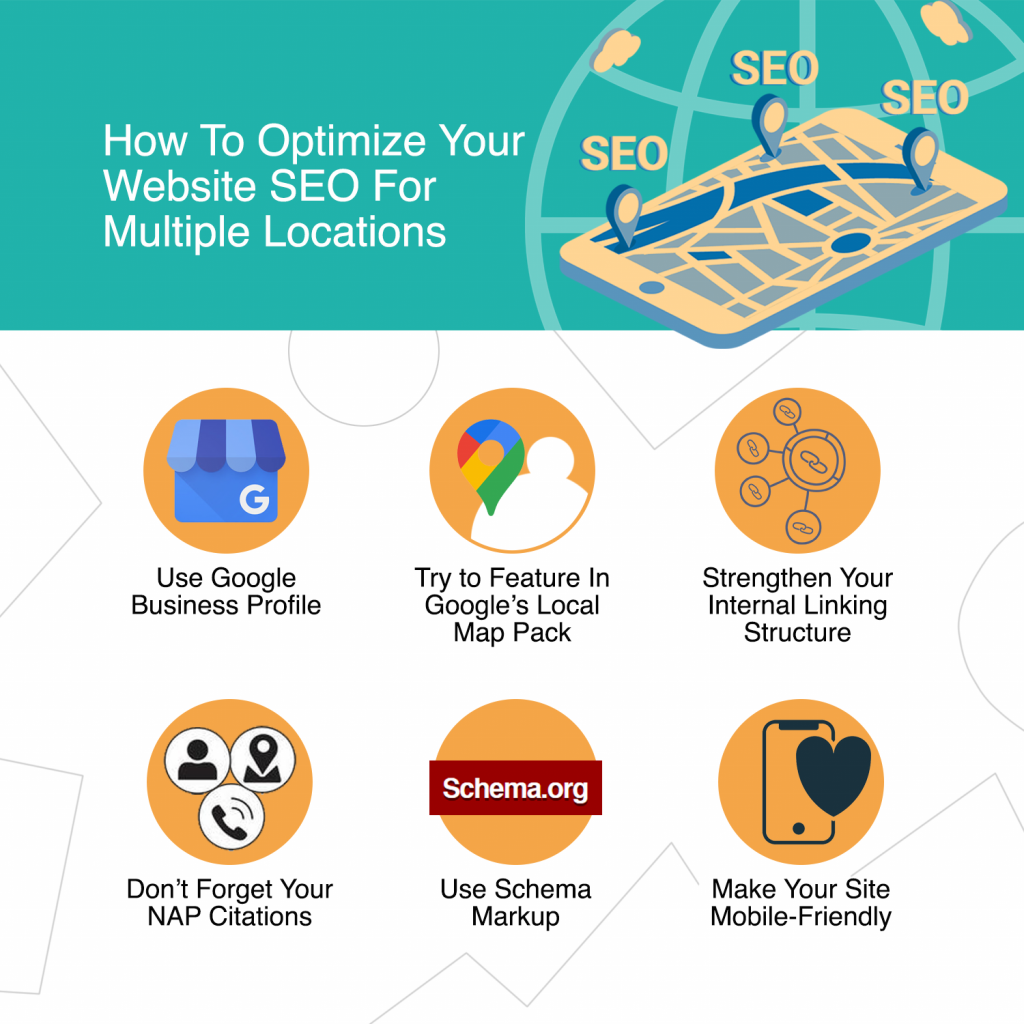 Search engines like Google and Bing prioritize relevance and intent more than anything else in deciding their search results. Location-based criteria are key to confirming the relevance of your website to a particular search. As such, there are a few must-dos and never-dos when it comes to optimizing a business website for multiple locations. We've rounded them up for you below:
1.     Use Google Business Profile
A Google Business Profile helps the search engine algorithm verify your business location and the services offered. At its most basic, it is something Google uses to determine the relevance of a business to a particular local search. It's not quite as simplistic though. Besides the usual location-specific information about your business like address, opening hours, and so on, Google also uses the profile to assess customer reviews and feedback. A Google Business Profile can improve your online visibility in local searches by a huge margin.
2.     Try to Feature In Google's Local Map Pack
Finding your way to Google's featured local suggestions or 'local map pack' – a set of three or more businesses that show up on a map of the general area of the searcher's location. It is an SEO privilege many businesses would be willing to die for. It puts the spotlight on your business, helps rank higher than competitors, and pretty much guarantees a higher share of eyeballs.
Here are the steps you need to take for a shot at entering the local map pack:
Create a Google Business Profile
Provide accurate and updated business details like address, business hours, and other details like free WiFi. Adding visual elements like photos and videos helps a lot too.
Curate reviews by responding to users who have left comments and leverage good reviews to increase your chances of entering the local map pack.
3.     Strengthen Your Internal Linking Structure
While external linking remains important to improve SEO ranking, a strong internal linking structure is also necessary to provide website visitors with a seamless site navigation experience and thereby improve your optimization.
To boost your external linking, you can list your business with online directories such as Yelp, Trip Advisor, or Bing to further legitimize your offerings and acquire higher web traffic.
4.     Don't Forget Your NAP Citations
NAP is an acronym for name, address, and phone number. It is the quickest way for Google to understand your location and contact information. Google's algorithm crawls your web page to verify this information for itself, so make sure to add it organically in your HTML text. Be wary of adding this information to an image as images cannot be crawled for information! Many businesses commit this mistake by adding a Google Maps screenshot of their location along with their phone number. The safest place to add this information is the 'Contact Us' page.
5.     Use Schema Markup
Schema is a shared vocabulary between various search engines like Google, Yahoo, Microsoft, and Yandex that helps maintain and promote structured data on the internet. If you're new to web development, a Schema makeup may look daunting, but it can help your website rank higher in local searches. That is achieved by picking a category for your website that allows search engines to better understand your website and establish relevance in local SEO rankings.  
6.     Make Your Site Mobile-Friendly
When you're targeting local customers, optimizing your site for mobile devices is imperative. In February 2023, more than 60% of all online searches were made on mobile devices. That's why you need to make sure your website is optimized for mobile viewing and offers seamless finger-touch navigation.
Pro Tip: Create Unique Content For Your Most Important Locations
A pro tip for businesses with multiple addresses is creating original content for every location.
Instead of creating city-wide pages that are often excluded by Google for duplication of content, you should focus on creating location-specific content for every street or neighborhood your business serves.
For instance, a plumbing business with stores across the country could think of creating content around avoiding the negative effects of hard water for its New York location.
Addressing customer concerns and expectations for each of your business locations will help localize your content and boost local SEO.